May 25th, 2012
2 XL Commercial are delighted to share with you our latest good news story.
We were passed the introduction via Adam Marlow of Marlow Proactive www. marlow-proactive.co.uk who had been tasked to help raise capital for Les Howard and David Willans of the GNI Group www. greatnortherninns.co.uk a successful pub and bar chain with a number of sites across the Nottingham and East Midlands area, including the Monkey Tree, West Bridgeford and the Trent Navigation and Southbank near Nottingham Forest and Notts County respectively.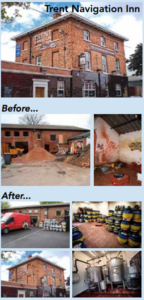 The clients were looking to develop some outbuildings at the rear of the Trent Navigation in order to set up their own Microbrewery and also to restructure their existing facilities. A number of people had looked at the deal including their incumbent bank as well as one of our competitors, but to no avail – 2XL Commercial were keen to support a profitable, well established and growing business and after an Interview with the clients and gathering of all the information we were ready to go and funding had been approved within 14 days.
David Willans stated,
"Darren sorted out the refinancing of our business, where two others had failed to deliver a cost-effective solution in a reasonable timescale. In three months we had completed the deal, which to be honest we had virtually given up on as a bad job, as it had dragged on for 18 months.
He kept us informed at every stage of the process and worked on our behalf tirelessly with Santander, to complete the deal. I cannot recommend him and his company highly enough, and should we ever need any further finance, he would be my first port of call. When others say it can't be done or will take too long to work for you, get in touch with Darren Willoughby at 2XL Commercial Finance."
The result of this is outstanding as the pictures show – the brewery went from shell to fully functional brewery in less than 2 months and the orders for the beers have gone through the roof with plans for further expansion already underway.
I'll drink to that ……………………….Cheers!